Structured Sober Living In Los Angeles
Providing community-driven approach to change for over 35 years.
Structured Men's Sober Living in Los Angeles
New Life has been helping young men cultivate a way of living they can be proud of since 1985. Our structured sober living in Los Angeles, California have paved the way for young men to create successful lives and fulfilling futures. With the help of our program structure, caring staff, loving community and decades of experience, we can build something beautiful… together.
Process
Programming for Sober Living in Los Angeles, CA
Common New Life House Questions
Why Age-Specific?

One of the foundational tenants of New Life House is our focus on age-specific recovery. Often, young adults are placed in sober living environments with individuals much older than them, who have radically different life circumstances to contend with. We find that by surrounding young men with healthy peers, they are able to relate, build a powerful community, and enjoy long-lasting friendships and support as they move forward in their lives.

Why Are Meals Included?

Part of living a healthy lifestyle means choosing nourishing foods. By providing meals to the young men in our program, we help them avoid slipping into a diet of fast food and unhealthy choices. We also take advantage of the opportunity to teach them how to prepare meals and plan out their days and lives accordingly, for sustainable success.

Why Focus on Life Skills?

For young men struggling with substance abuse or failure to launch, missing life skills are one of the biggest pieces of the puzzle. Helping our guys acquire, practice, and become comfortable with these skills.

What About Clinical Support?

Through the amazing therapeutic team at Clear Recovery Center, the young men at New Life House receive the clinical care necessary to overcome their struggles while growing in their character, maturity, and ability to live successful, independent lives.

Is There Academic Support?

From finishing high school to higher education, one on one attention, diverse educational pathways, and a dedicated Director of Education make the New Life House academic program a source of guidance, structure and support that enables our residents to move forward academically.

How About Jobs and Vocational Programming?

Entering and navigating the workforce in recovery carries its own set of challenges, all of which New Life House helps our young men address. From the process and skills involved with actually finding, preparing for and interviewing for a great fitting job, to achieving the best work performance possible, the guys in New Life House are set up for success.

Are Families Involved?

When it comes to young adult recovery, family is a crucial part of the process. New Life House is not somewhere that you just drop your son off. From our therapeutic 90 day new family program, to our every other week family groups, to our Parent Guide system, we involve the whole family in the restoration process.

How Does Continuing Care Come In?

After more than 35 years of successful recovery, we've learned a thing or two about working with alumni. That's why our graduates remain highly involved with the program, through our Alumni Programming, including experiential outings, weekly house meetings, alumni specific groups, and ongoing mentorship designed to help young men navigate the ups and downs of independence following their time at New Life House.
Tour
Our
Los Angeles

Sober Living Homes

Just because New Life is a sober living home doesn't mean it shouldn't feel like, well, home. We take pride in everything that we do and the actual sober living homes that we live at here in Los Angeles are no exception.

Check Out Our Amazing Facility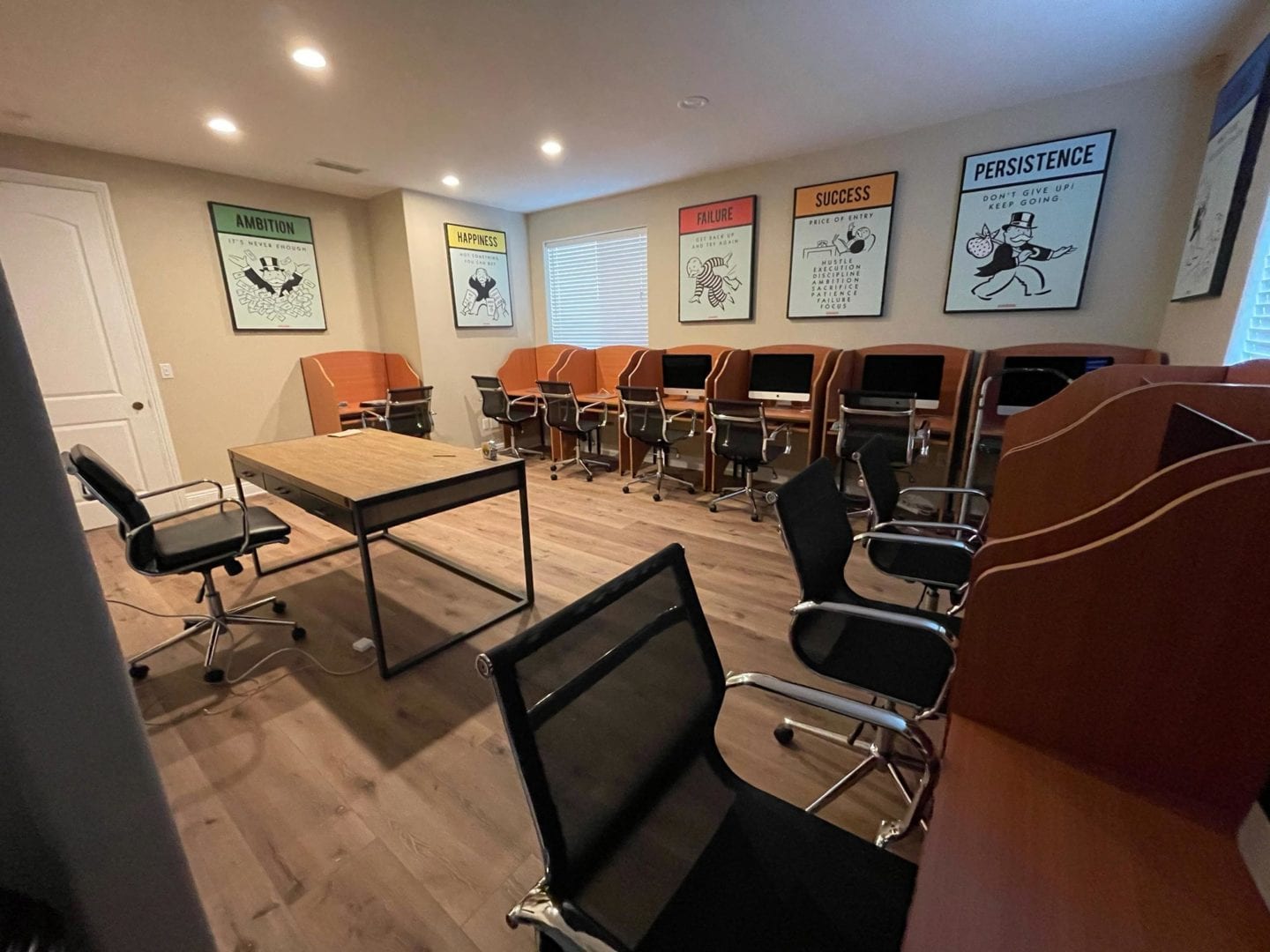 Leading
Educational

Program

At New Life House, in addition to bolstering life skills, growing a sense of community, and developing character, our young men have the opportunity to participate in a number of curated higher education opportunities. The young men at our Los Angeles sober living homes work with our Director of Education to assess their strengths and aspirations and, with the support of their families, will be placed into one of these tracks.

With everything from a traditional college track to professional certifications, to trade schools, New Life House helps each young man find and achieve their dreams.
Unparalleled
Family

Program

At our structured sober living for men in Los Angeles, we incorporate the entire family into the recovery process. We involve, engage, and include our families. We believe that for your son to successfully recover, the process should be a partnership. Our family program structure is built to provide support, guidance, and insight every step of the way.

New Life House is not a place where young men are dropped off and families are forgotten — it's a home that involves everyone in the recovery process.
I am so grateful to be a part of this Los Angeles sober living community! When I first got here I was so wrapped up in fear. Fear of life, fear of people and fear of society. I hated who I was and felt worthless to the world. Thanks to New Life House I have been able to face my reality and become the man I have always wanted to be. I found a purpose in life and for that I am forever grateful for the New Life community. Thank you for my sobriety and for my life today!

Andrew K. & Family
Testimonials
What Our Patients Say
Our son entered the New Life Program at Miracle House fifteen months ago at the age of 35. My wife and I were at the end of the road in having any hope that he had much longer to live due to his lifestyle and his behavior. We offered him this program as our last effort to help him. What has become of him is nothing short of an absolute miracle – and in all honesty, his sobriety, while being the catalyst behind his change, is possibly the least of it. He is a different person than the one who walked in the door of Miracle House, and he is a completely different person than the one we have dealt with for the last twenty plus years. He has become a person who is totally honest, completely trustworthy, and who takes full responsibility for his actions and behaviors, both past and present. He has also learned how to deal with legal and financial issues patiently and methodically to begin the process of digging himself out of the incredible mess he had created. Only someone who has a child like this could fully understand the feelings we have. This program gave us the gift of our son's life.
My son has graduated, and is ready to start his new sober life. New Life involves the families, and gives these young men long term community. The ongoing relationship with the program is what keeps them sober long term. We knew right away that our son was going to the right place when everyone I talked to was either alumni of the program or a parent of the alumni.
My son was destroying himself and our family. I am so grateful that we found New Life. The program saved his life and helped our family heal. He is a recent graduate and while we know the journey is far from over, we are hopeful for his future.
Our son, Isaiah, was a client at the New Life facility and is now a graduate. My wife and I would like to express our sincere gratitude to the staff and counselors who helped him along his journey. He had many twists, turns, and a few roadblocks along the way. But now he is sober and hopefully will be on the right path. My wife and I didn't think that our son's recovery was possible. I can tell you the multitude of stories, heartache, and pain that we have gone through over the last 4 years, but that would make this letter about a 500-page book, so I will not go too crazy. However, my family and I cannot give New Life staff and counselors enough kudos/accolades for their work with our son. I don't know how you did it but your organization has answered our prayers and actually made our dream come true. Our son is doing better now than at any time during the last few years! Now I know that recovery is a process, and the wheels can come off the tracks at any time. However, I do know that aside from helping him while he was at New Life and now out of the bubble of your program. Even out of the bubble of New Life, you have given him the tools that he uses every day to keep the wheels on the tracks. Thank you for bringing hope back to our family again. The journey ahead of him is long, and the trail is treacherous, but his new focus and determination are something to marvel at. Again, thank you, and God bless all of you. I want to mention a special thanks to Irina Jodzio, Sebastian Martin, and Jackson Sarentinos. We pray that God will continue to give each of you the mental fortitude, patience, and compassion to save lives and lead those in need to a life of sobriety and serenity. Philippians 4:13 "I can do all things through Christ which strengthen me."
I began my journey to recovery with New Life House in 2018. This process has given me the ability to overcome my self destructive habits and stay sober. I cherish the lifelong connections I've made in this community. I will be forever grateful for the opportunity to rebuild relationships with my family and be someone they can rely on. I recommend anyone struggling with alcoholism/addiction to reach out now!
Unfortunately, addiction had its grip on my son; he was lost and I was left puzzled and desperate as it seemed there was no real help to be found. After many failed attempts at different programs, we heard of New Life House and it sounded like it might be a good fit. It is a comprehensive approach, incorporating positive peer relationships and comradery, recovery, therapy, family, alumni, and lifestyle. At New Life House, my son finally received the therapy he needed, developed real life skills, formed relationships, and learned what it means to be in recovery. Our family was kept highly involved through parent supports, manager meetings, and family meetings. My son is now a graduate of New Life House; he has 15 months of sobriety and works full time, supports others in the recovery community with passion and has a real purpose and meaning to his life. I highly recommend New Life House if you have a loved one who's life is being taken over by substance abuse and addiction.
New Life House With honor I express my gratitude to New Life House for their support, understanding, love and care for our son Patrick. Exacerbated, as I witnessed the grip of deadly addiction stealing the heart and soul of this precious young man's life. With an overwhelming feeling of helplessness, having previously tried numerous recovery options without success, I was lovingly guided to New Life House. New life was transparent in letting us know the journey towards lasting recovery is not a quick fix, which I appreciated. The commitment and depth of their programs unwavering foundation, which are remarkably effective, produce true champions in recovery. Results: Today Patrick is 21+ months sober, fully engaged in supporting the recovery community, a high school graduate, a newly licensed driver, a full-time employee, and exploring his bright future, with humility, respect, under the guidance of New Life. Bottomline: New Life walks the way they talk. With respect and gratitude, Kent
Thank you New Life House for giving me the tools to approach life as a sober man. I came into this house broken, lost and had no idea how to get ahold of my alcoholism. New Life gave me a family of like minded individuals who have continued to guide me along the path of sobriety. For the first time in years I am confident in the direction my life is heading; I am excited to see what the future holds for me and I know that I no longer have to walk this journey alone. I owe my sobriety and new found peace of mind to this community and sober brothers.
New Life House. Wow, I got what I came for. Before entering this program my life was a mess, I was miserable, and had a lot of regrets along with fears that I was never going to be able to accomplish anything, especially surrounding my alcoholism. Upon entering, I learned that I have been able to change the course of my life through working on the values that they teach at New Life. On top of that, I have been able to be a part of a continuously growing community of other sober, like-minded guys in my age group who I can say that I trust and have my back, and I have theirs. New Life House has gotten my life going in a direction that I never saw for myself, and it isn't just a starting point, it is long term recovery with a strong community that I can honestly say I love and am proud to call them brothers. Colby M
Carter Bellows
2021-07-29
As cheesy as it sounds, New Life House and the New Life community as a whole truly has given me the new life that I never thought I needed or wanted. When I first came into the house I felt out of place being from across the country but that didn't last long as all of the guys welcomed me into their home and made me feel comfortable. It was hard work going through this process, probably one of the hardest things I've ever had to do but as a matter of fact, yet being able to reap all the rewards that come with sobriety and going through this house is priceless. I have a new found family, I have been given the opportunity to reform relationships with my relatives, I have a life where I can show up for those in need and feel contentment from that, and through the trials and tribulations I have discovered that I am capable of much more than I would have ever thought. I'm not one who would've thought he'd be writing a review for a recovery community, definitely not a positive one, yet here I am, giving all my gratitude to New Life and excited to go out and practice what I was taught here. Carter B